Cancún is more than a beach resort… it's a charming and safe area, located in the heart of Mexico's Yucatan peninsula. If you are looking for an unforgettable trip in Mexico filled with history, culture, great food, beautiful beaches, and natural wonders, then you should be sure to experience what the Cancún area has to offer.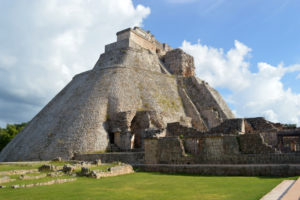 Learning about the Yucatan peninsula starts with learning about its Mayan roots. You can see and feel the amazing Mayan history when you visit the ruins of Tulum and Chichen Itza. But the Yucatan is more than ruins; and the Mayan culture lives on. The ancient cities may have been abandoned, but the Mayan people are still here. It's possible to see their vibrant culture by venturing out.
Cancún has a year-round sunny and warm semitropical climate, and an average temperature of 80F (27C). It's a place of adventure and relaxation, from the crystal clear waters to the abundant Mayan archaeological sites. The delightful weather invites you to enjoy the water with swimming, kayaking, snorkeling, and diving. There's also an active nightlife, whether you enjoy music, dancing, or dining, the Cancún area has something for everyone.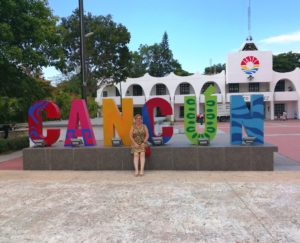 As COVID-19 begins to wane, and people begin to feel safe to travel, I'll begin to hold local classes. At that time, I invite you to come to Cancún and study Spanish with me! I'll be offering offer more than just classes; I'll be leading discovery trips to nearby areas of interest, places that will amaze you.
Sobre Cancun
Este verano, me mudé a Cancún. He estado viajando a esta hermosa parte de México por muchos años, y finalmente decidí hacer el cambio.
Cancún es más que una playa … es una zona encantadora y segura, ubicada en el corazón de la península de Yucatán en México. Si está buscando un viaje mágico en México lleno de historia, cultura, excelente comida, hermosas playas y maravillas naturales, entonces debe venir al área de Cancún.
Aprender sobre la península de Yucatán comienza con descubrir las raíces mayas. Puedes ver y sentir la historia maya cuando visitas las ruinas de Tulum y Chichen Itza. Pero Yucatán es más que sus ruinas; y la cultura maya vive. Las ciudades antiguas pueden haber sido abandonadas, pero los mayas todavía están aquí. Es posible ver su cultura vibrante aventurándose a salir.
Cancún tiene un clima semitropical soleado y cálido durante todo el año, y una temperatura promedio de 80F (27C). Es un lugar de aventura y relajación, desde las aguas cristalinas hasta los abundantes sitios arqueológicos mayas. El agradable clima lo invita a disfrutar del agua, a nadar, remar por kayak, hacer snorkel y bucear. También hay una vida nocturna activa, puede disfrutar la música, el baile o la comida, el área de Cancún tiene algo para todos.
¡Te invito a que vengas a Cancún y estudies español conmigo! Espero ofrecer más que solo clases; ofreceré viajes de campo a áreas cercanas de interés, lugares que te sorprenderán.